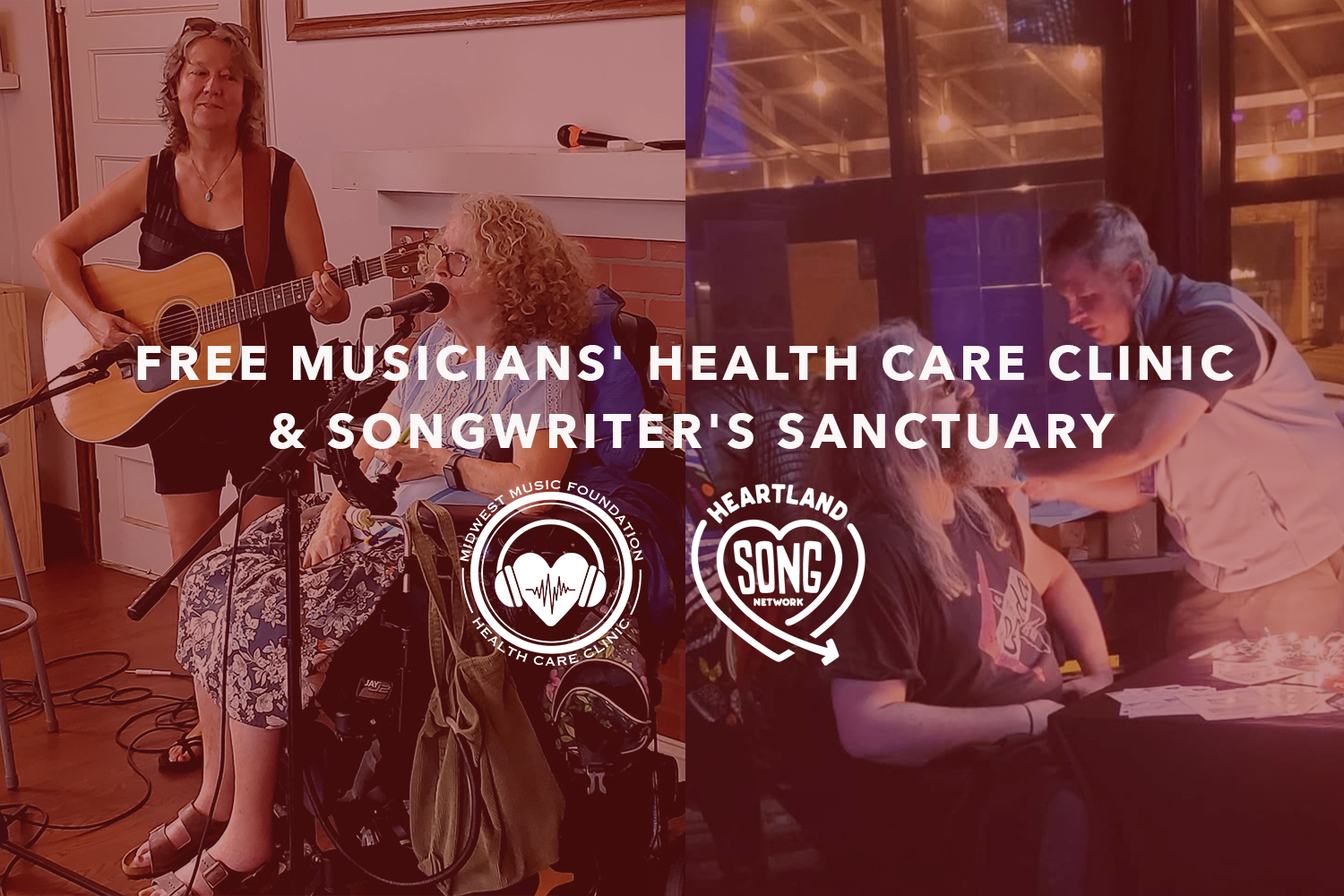 Heartland
Song Network and Midwest Music Foundation have teamed up for a community event on December 17th, from 12:30pm-5:30pm at PH Coffee, to provide a free musicians' health care clinic, and a free performance space to share original music and songs.
The Midwest Music Foundation Free Musicians' Health Care Clinic from 12:30 to 5:30 pm

Dr. Allen Greiner from the RockDocs, physicians from University of Kansas Medical Center, will offer information, screenings, wellness programs, opportunities to discuss health conditions/concerns, and arrange follow up visits. Flu shots and COVID boosters will be available subject to availability. Molly Gotobed, Community Health Council of Wyandotte County, will provide information on ACA insurance and Medicaid enrollment.
MMF is providing free custom earplugs to the first 20 qualified musicians/music industry personnel to apply. Impressions will be done by AudioGirl Consulting.
Priority will be given to musicians/music industry personnel, but the clinic is open to the public. Appointments are recommended. Walk-ins will be allowed as time permits. Contact
rhonda@midwestmusicfound.org
for more information or to schedule an appointment for any of the services.
Songwriter's Sanctuary presented by

 

Heartland

 

Song Network from 3:30-5:30pm
An event for songwriters by songwriters that creates an opportunity to try out new material, meet other songwriters, practice your performance skills, and become part of the songwriting community. All ages and genres of music are encouraged to perform.
Each participating songwriter will get the chance to play one original song (solo or accompanied by no more than one other person). Backing tracks are allowed. The songwriter may introduce themselves and tell the name of the song (if it has one). In the interest of time, please avoid long descriptions. We want to make sure everyone who signs up gets a chance to perform. This is a family friendly event so please use discretion on the song selection and description of the song you perform. After the one song per songwriter rotation has been completed, those who wish to do another song in rotation shall commence if time allows.
No cost to performers or audience members. Sign up on eventbrite or in person on the day of the event by 3:00pm. Music starts at 3:30pm. (Eventbrite link goes live on November 20th, 2023)
All events are free and take place on December 17th at PH Coffee at 2200 Lexington Ave, Kansas City, MO from 12:30 to 5:30 pm.